Network Solutions has been around since the dawn of the internet. For years they had a monopoly on the domain name business until lobbyists applied enough pressure on the government to force the deregulation of the domain name industry in 1999, forcing them to give up their monopoly. As Network Solutions begun to lose market share they were acquired by Verisign and their business practices began to get increasingly unethical as they tried to maintain their profit while business started to move to their competitors.
Some of the more notable unethical business practices Network Solutions has practiced include:
Preemptively reserving domain names people have searched for in order to profit. This effectively means that if you search for a domain name, you will not be able to register it at a cheaper domain name registrar at a later date, because Network Solutions have already reserved it. It also results in Network Solutions raising their registration fees for that domain once they detected your interest in it.
Attempting to automatically enroll people in their WebLock service for $1,850 for the first year and $1,450 for each year after. The fact they had the audacity to even try and get away with this beggars belief. It obviously didn't go down very well and was eventually explained away as a badly worded email. Yeah right!
Hijacking peoples sub-domains. They used an obscure provision of their end user licence agreement to use any sub-domain, domain name directory, and sub-domain directory which did not resolve to an active web page for their own advertising purposes.
I have attempted to move away from Network Solutions a couple of times over the years because they are expensive, have too many up-sells, and their website seems to be designed so you accidentally buy things you don't want, and can't find the things you do want, such as the "Allow my domain to be transferred away from this unethical, money sucking excuse for a domain registrar" button.
The straw which broke the camels back occurred recently, when I inadvertently allowed one of my domain names to expire. I didn't lose it, because Network Solutions has a "Grace Period" – how thoughtful of them! But, because I allowed it to expire I was charged more than the standard rate to renew it, along with a reinstatement fee totaling $68.98 for 1 year. But that's not where it ended, when I checked my credit card statement I had been billed not once, but twice for the same domain name. That is NZ$202.46

I immediately opened up a support ticket explaining what had happened, and that I would like the second charge reversed.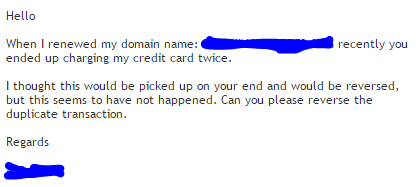 I got the following response which suggests that not only did they probably not read my message, but they are going to use the excuse of "Security" to ensure that I'm not an impostor, and therefore must call them in order to verify that I didn't want them to double charge me.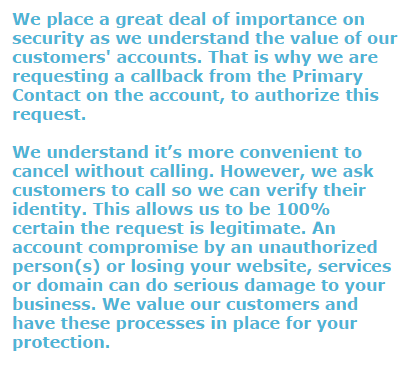 Enough is enough… After a little research I learned that Name Cheap is one of the best domain name registrars with the most positive reviews and reasonable prices. I then began the process of transferring my domains over to them.
How to get your domains ready for transfer from Network Solutions
Head over to network solutions and log in to your account.
From the account manager screen click on "My Domain Names" – highlighted below